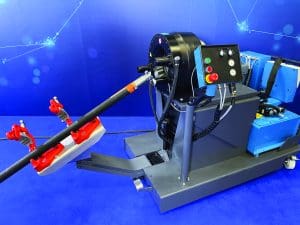 Maillefer has recently developed the next generation (NextGen) Quick Conductor Splicing unit QCS 3000. It is intended especially for splicing of Al/Cu Milliken conductors of 3000 mm2 with an overall diameter of up to 70 mm. The QCS 3000 NextGen makes splicing of large 2500~3000SQ Cu conductors significantly easier for the CV line operator.
Less steps needed
The need for the number of preparation steps is dramatically reduced with the QCS 3000 NextGen in
comparison with the other splicers. It provides flexibility in production thanks to a hoisting unit and
an electrically adjustable crimping head. The conductor end no longer needs to be lifted with a
separate crane.
In general, the QCS technology is suited for extruded XLPE-insulated MV, HV and EHV cables. As no
wires have to be removed from the outermost layers of the conductor, splicing with QCS 3000
NextGen becomes easy and efficient. Plus, the splice end has a smaller outer diameter than the
original conductor in order to facilitate passing it through a CV line's triple crosshead.
Splicing with QCS 3000 NextGen
Here is a breakdown of the splicing steps with the QCS 3000, as illustrated in the three pictures
below. First, a Milliken conductor is lifted off the floor and onto a hoisting device, which holds it in
place with two strong mechanical clamps. During the operation, a special splicing sleeve having a
bigger inner diameter than the Milliken conductor is fitted over the conductor manually. Finally, the
sleeve is tightly compressed around the conductor. A control panel assists the operator in making all
the necessary splice adjustments of hoisting, alignment, positioning, and sleeve crimping.
Quick and Easy Splicing
Traditionally, the operation of splicing a Milliken conductor is rather time-consuming. It requires a
skillful operator to prepare a quality splice. We typically see preparation times for one (1)
conductor end take up to approximately 60 minutes to complete.
When using QCS 3000 NextGen, the splicing time is remarkably reduced. Crimping itself takes only a
minute, while the overall splice preparation is reduced to 10 minutes or even less. QCS 3000
removes the complex and time-consuming operations from the splicing of Milliken conductors. Make
splicing of MV, HV, and EHV cables quick, easy, and cost-effective with a QCS 3000 NextGen.