CONDAT shares the conviction that industry can be a wonderful lever of innovation to respond to contemporary challenges: climate change, diminishing resources, pollution… Supporting customers and partners towards responsible performance, that combines social and environmental issues, is a main objective for the company.
Initiated several decades ago, this responsible commitment is based on one of the CONDAT Group's fundamental values: BUILD TO LAST. Guided by this historical value, since 1854 the company has been pursuing a long-term strategy that contributes greatly to its longevity. It has been therefore one of the forerunners to develop industrial lubricants and other specialty products with a reduced environmental impact, without compromising either their performance or the safety of users. As an example, the company launched its first biodegradables lubricants 20 years ago.
CSR commitments & assessments
Since their publication in 2010, the guidelines of the ISO 26000:2010 standard have been a guide for CONDAT decision-making and actions. Although this standard does not lend itself to certification, it provides the right guideline to all companies aware that social responsibility and environmentally friendly behavior are key factors for success.
In 2018, CONDAT went a step further in its CSR policy by joining the international ECOVADIS platform. Its CSR performance is assessed annually by an independent body according to 21 criteria divided into 4 themes: Environment – HR and Human rights – Business ethics – responsible purchasing policy.
For 2020, CONDAT has been awarded Silver level by ECOVADIS, recognizing its far-reaching sustainability and CSR policy. This achievement places CONDAT among the 25% of the best rated global companies by ECOVADIS and among the top 6% of companies in this economic sector / lubricants.
LUBRISCORE®, a self-scoring system for eco-designed products
In order to provide customers better readability and total transparency on its products, CONDAT established in 2020 the innovative Lubriscore®. The Lubriscore® is a CONDAT self-scoring system that rates product properties based on life cycle criteria: Raw materials and design / Production / Transport / Use / End of life. This rating includes impacts on people and the environment and takes into consideration the state of knowledge at the time of the assessment and changes to regulations. A bonus is applied in case of compliance with a label or certification; as for example for an ECOLABEL certified product.
Based on a points system and on the answers given to about twenty questions, the Lubriscore® grants, or not, the product with an associated number of stars. The more eco-designed a lubricant is, the higher the number of stars it gets, the ratings range being from 1 to 3 stars. By choosing a product with at least one star, you benefit from an eco-designed alternative!
The LUBRISCORE® rating is available for a wide range of CONDAT lubricants, including wire drawing soaps, metalworking fluids, cold heading oils, hydraulic oils, die lubricants, cooling lubricants, hardening/quenching fluids and maintenance lubricants.
An eco-designed range for wire drawing soaps
As leader on the wire drawing market, CONDAT has also been keen on offering safer lubricants for the wire drawing industry. Being the first lubricants provider to develop, 20 years ago, boron free pre-coatings and calcium and sodium soaps, or even lubricants designed to increase productivity and reduce energy and consumption costs, the company has kept a crucial competitive edge in supplying lubricants providing responsible performance.
As proof, the CONDAT wiredrawing range now has about 40 products that have been rated as eco-designed through the LUBRISCORE®. This is the result of a long-term strategy aiming at improving a product's footprint.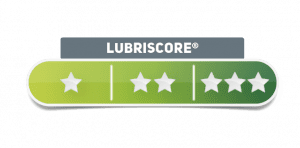 CONDAT eco-designed lubricants are characterized by several of the following benefits. Careful attention is paid to the key raw materials used in CONDAT product formulas. Indeed, most of the time they are supplied in bulk to limit packaging consumption and reduce waste quantities.
Moreover, in order to protect customers and the environment, CONDAT's policy is to eliminate CMR raw materials in formulas, and to reduce as much as possible the use of hazardous components. For example, highly efficient soaps and surface treatments have been developed without Borax and TiO2.
To provide the highest performance & productivity, formulation of the product is tailored to each customer's application to ensure reduction of dust, die wear, lubricant consumption…
Finally, our eco-designed range is also characterized by a reduced production footprint, with lower energy required to manufacture the products (manufacturing temperature and time).
Condat will pursue this goal in the forthcoming years. Its ambition is to extend its eco-designed range with 10 new eco-designed products per year and increase the share of its eco-designed products turnover by 55%, all markets included. To reach this goal, there is a strong commitment from the CONDAT R&D and sales teams.
For more information, contact CONDAT lubricant wire drawing experts on www.condat.fr or info@condat.fr